FAQ's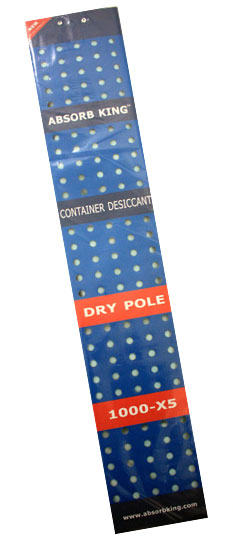 Welcome to the new look Silica Gel Products online store. If you have an account then your details have been migrated to this new site so you can log on with the same credentials as you've previously used.
We are happy to provide technical support or answer any queries you might have.
Contact Us
for assistance.
Products
What is Silica Gel and why do I need it?
Silica Gel adsorbs moisture to create a protective environment of dry air, therefore it is highly effective in preventing moisture damage in enclosed spaces. Silica Gel has been around for over 100 years and is considered the most effective desiccant because it works so well and is so cost effective.
It's not actually a Gel, rather 2 - 4mm diameter round beads covered in millions of tiny pores that can retain moisture. These beads trap water molecules inside its pores whilst the exterior remains dry.
It can prevent moisture damage such as: rust, mould, corrosion, musty odour, tarnish, oxidation, mildew, fungus, spoilage, spotting and stains.
It is widely used in a variety of industries and markets but its uses are far too extensive to be listed here, check our Top 50 Uses page for common applications and the home page video for a more detailed explanation.
What is our full product range and what are the different types of Silica Gel we provide?
We offer a comprehensive range of Silica Gel sachets, loose Silica Gel in bulk, Moisture Absorbing Boxes, Canisters, Kits, Oxygen Absorbers, Mylar Moisture Barrier Bags, Shipping Container Dry Poles, Clay Desiccant products and Humidity Indicator Cards.
We provide the following types of Silica Gel in permeable sachets or loose bulk: Non-Indicating (White), Indicating (Orange), Part Indicating (Mixed White and Orange)
The Indicating products start to change colour at 60% moisture saturation turning from Orange to Green. The Non-Indicating products are the stock standard White, they do not change colour. Neither of these types of Silica Gel is more effective than the other, the only difference is that the Indicating products provide a visual indication of moisture absorption levels.
Is it safe and environmentally friendly?
Silica Gel is non-toxic, environmentally safe and harmless. We only use organic coatings for the Indicating products. It is the only absorbent approved by the U.S. Food and Drug Administration (USFDA) that is able to be in direct contact with food and medicine.
The "do not eat" warnings printed on the packets are to warn against choking hazards rather than toxic hazards.
How much moisture does Silica Gel absorb?
Silica Gel will adsorb 40% of its own weight in moisture and will continue to work until it has adsorbed that level.
How much do I need?
1 gram of Silica Gel will protect 1 litre of sealed space. Use the calculator to determine what size sachets or Silica Gel quantities are required for your application.
What sachet sizes are available?
The range of Non-Indicating, Indicating and Part Indicating Silica Gel sachets are: 0.5g, 0.75g, 1g, 2g, 3g, 5g, 10g, 20g, 25g, 33g, 35g, 40g, 50g, 100g, 200g, 500g, and 1Kg sachets. The loose bulk options are 675g, 1Kg, 2Kg, 5Kg, 10Kg and 25Kg
How long will it last for and does it expire?
Silica Gel will continue to work until it has adsorbed 40% of its own weight.
How long it will last for depends on many variables such as: moisture sources within the contained space, from the packaging materials and external packaging permeability, how air tight the protection area is, the contents of the protection area, how often the protection area is opened and closed, the relative humidity of the surrounding area, the materials used in the construction of the storage area itself and so on.
What is the packaging it comes in?
Our Silica Gel sachets are packaged in permeable materials that allow air and moisture to pass into the sachets. The sachets are ready to use straight out of the packs.
There are 3 main packaging types:
Tyvek - a strong, robust polyolefin fibre predominantly used with the larger size sachets.
Clear Plastic - used for the Indicating Silica Gel products, these are see through so you can see the colour change through the packaging.
Composite - a non-woven fabric that is commonly used with the smaller sachet sizes.
The loose bulk packs are packaged in 150 micron plastic moisture barrier bags.
Where is Silica Gel commonly used?
Silica Gel is used in various industries and markets. See our Top 50 Uses page for the most common examples of where and how Silica Gel is used.
How can I tell if it needs replacing?
The Indicating products start to change colour at 60% and steadily turn a dark green as saturation levels approach 100%. At that time you will need to replace the Silica Gel as it is fully adsorbed.
The Non-Indicating products do not have any colour change so we recommend including a Humidity Indicator Card in with your Silica Gel sachets to provide a visual guide of saturation levels.
How do I re-use it?
You can re-activate Silica Gel by drying it out in an oven at 70 degrees Celsius for approximately 120 minutes. Speak to us about specific instructions on how this re-activation process is best achieved.
Deliveries
How are the orders dispatched?
We send all of our orders via courier with "track-and-trace." Customers receive an email when the order has been collected by the courier, that email contains a link providing updates on the status of your delivery. Please note that our couriers do not deliver to P.O. Box addresses but we're working on providing that service in the future.
How soon after ordering will I receive the goods?
Shipping time commences from receipt of payment for an order. We aim to dispatch orders the day they are received (depending on the time of day the order is received) Typical courier delivery times are within 1-2 days so you should receive your goods in 2-3 days after ordering. Rural deliveries can take a couple of days longer. Weekends and public holidays may extend delivery by a couple of days.
If you have not received your product within a reasonable time, please contact us and we'll endeavour to resolve your enquiry as quickly as possible.
Can I leave specific delivery instructions?
Yes, any specific instructions will be transferred to the couriers.
Can we pick up the order instead of delivery?
Being an online retail shop we do not have a physical shop presence and we therefore do not encourage customers picking up their orders in person. However, we do allow pickups for emergencies, contact us to enquire.
What happens with orders that are lost or damaged in transit?
Loss of, or damage to, the purchased item during the delivery process will be covered by the courier companies insurance and their shipping terms and conditions. Their conditions state that they will not cover for goods that are not "track-and-trace" hence, we exclusively use track and trace courier services.
Purchasing and Payments
What purchasing and payments options do we offer?
Purchase directly via the online store and pay using a credit card, debit card or bank transfer

Email with purchase orders and credit terms for account customers

Phone orders payable by credit card, debit card or bank transfer

Do we retain credit card details and how secure is the credit card payment system?
No we do not retain any credit or debit card information.
Credit and Debit Card transactions are processed externally by secure payment gateway, DPS - Payment Express. DPS - Payment Express are global leaders in secure online payment systems and their payment platform is commonly used by online stores. They deploy bank grade security, are PCI DSS compliant and utilise the latest encryption technologies.
Can I get an invoice with the order?
All orders are dispatched with a GST invoice.
Accounts
Do I need to create an account before purchasing from the store?
No, you can purchase items via the guest checkout but we recommended creating an account as any subsequent purchases will be processed a lot faster and you will have access to the features in the My Account section.
What is in the My Account section of the website?
My Account contains:
Your Order History
Your Wishlist of products you have saved as favourites
Your account information (email address etc)
Change of postal address function
Password reset function
How do I view my Order History?
You can view your Order History in the My Account section. Order History includes previous transaction details, dates, order numbers, payment method, product information, quantities, pricing and shipping address.
Can we create an account with credit terms?

Commercial customers are welcome to establish trading accounts with credit terms. Speak to us about setting one up.
Do we apply discounts for volume purchases?
We reward volume purchases with discounted rates. Speak to us to determine the level of discounts applicable for your volume purchase.
Policies and General
What is the currency?

The currency is New Zealand dollars
What are our contact details?
What is our cancellation policy?
In the event that a client wishes to cancel a purchase before receiving goods, the following applies:
If the goods have not been packaged then the client's purchase money will be returned, less any transaction fees.
If the goods have been packaged then the costs incurred such as: the packaging and any bank processing fees will be deducted from the original transaction price and the full balance credited to the client's nominated bank account.
Neither of the above will affect a client's ability to make further purchases in the future.
Consumers' rights law will always take precedence; except for #5 below.
We recognise that in life "stuff happens" to everyone. The above is worst-case scenario, and Silica Gel Products reserves the right to return the whole purchase price unmodified, should circumstances warrant it.
What are our Terms & Conditions?
Terms and Conditions for Silica Gel Products 2015 Limited.
(These should be read in conjunction with our Privacy Policy)
Returns Policy:
Silica Gel Products policy for returns and exchange of faulty goods is in full accord with the Fair Trading Act 1986, and the Consumer Guarantees Act 1993.
In general:
We do not have to provide a refund if you have changed your mind about a particular purchase, so please choose carefully. If the goods are faulty, we will meet our obligations under the Consumer Guarantees Act to provide a remedy. However, Silica Gel Products will consider each request on a case-by-case basis.
Refunds / exchanges of goods:
Goods are checked before dispatch, however: A request for either a refund or replacement goods will be considered under the following circumstances:
Goods fail to be:
Of acceptable quality
Fit for the purpose suggested by the product at time of purchase
As per the description provided by Silica Gel Products
Otherwise non-compliant with the above Acts
What is our Privacy Policy?
Disclaimer:
All prices quoted include GST unless otherwise stated and are subject to change. Errors & omissions excepted.
How Do We Use the Information We Collect?
When / if you create a SilicaGelProducts.co.nz account, we may ask you to fill out a form that requests your name, address and e-mail address. SilicaGelProducts.co.nz will NOT share data with other commercial agencies. Your name and address information is used solely to process orders. This information will NEVER be sold, given, rented or traded to others for purposes other than order fulfilment.
Site Security
At SilicaGelProducts.co.nz, your privacy is our priority. We are committed to protecting your privacy at all times. The information we collect about you when you create an account is used to process your orders and to provide a more personalised experience on our site. Our site uses 256 bit encrypted SSL to increase the security of our customer's information, however, we cannot guarantee complete security of stored information.
Updating Your Personal Information
After creating an account on SilicaGelProducts.co.nz you may update your personal information by clicking on the 'My Account' link at the top or bottom of any page. If you wish to deactivate your account, you may request that from us at any time.
Communication
From time to time we may send out email messages alerting you that products are available, or for promotional offers. In addition, you will receive communication from us:
If you contact us for a particular reason
To process your orders. Or,
If we need to contact you for administrative purposes
Legal Disclaimer
Though we make every effort to preserve user privacy, we may need to disclose personal information when required by law wherein we have a good-faith belief that such action is necessary to comply with a current judicial proceeding, a court order or legal process served on our Web site.

Use of Cookies
Cookies are pieces of information that your browser stores on your computer's hard drive which identify you when you enter. We may use session cookies to provide a seamless experience on the site, assist with understanding our site traffic and to analyse information in aggregate form.
Use of Log Files
When you visit our site we automatically log your IP address, your browser type and your access times. We utilise this information to conduct site performance evaluations. Log files are not tied to personally identifiable information.
Feedback
Your feedback is always welcome and we encourage your comments and questions.